I found this beauty in the 'to be thrown out' pile at work one day (about two years ago). It is part of a cubicle wall. I painted it to match my craft room and just used it as a magnet board. Since moving I have decided to go with a different color scheme and decided the board needed a new look and a new purpose.
I spray painted the entire thing a sunny yellow. I was impatient so I didn't sand or prime, but it turned out great. After it dried I taped off a rectangle on either side and painted it with chalkboard paint. (This is my first project working with chalkboard paint and I love it!)
While I was waiting for it to dry I took some alphabet magnets I got in a set from the DollarTree and bottle caps and glued some glitter on them. Now I use one side for my 'dream/idea' list and the other for my craft shopping list. I can hang coupons, flyers, or whatever else on there as well. I love that I have a functional message board that looks great, and all for less that five bucks!!
I am linking to: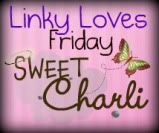 "
and:
and: