Ha ha, I am a poet. Anyway, in decorating for the new place I realized I had ZERO table lamps. I priced them out at Target and what-not. Boy, those things get expensive! I decided to check out the Goodwill and found a beauty. It didn't matter what color it was because I wanted to paint it anyway. I got this one for three bucks! I used Krylon paint and used a very light spray with multiple coats to ensure a clean even coverage.
I can't find my before picture!!! Imagine an ugly yellowed lamp here.
I didn't find a shade at the GW, but found one at Target for about five bucks. I happended to have some 'beach' themed fabric on hand for redecorating my living room. I used some quick grab glue and glued the fabric in one piece over the shade.
To finish the seam I just folded the fabric over on itself and glued it down.
Then to finish off the top and bottom edges I hot glued some cotton cording I picked up at Joanns.
Here she is all finished.
I just love the way it turned out! I wasn't entirely sure I could make my theme happened with sticking to my color scheme, but I think it is turning out great!
I am linking to: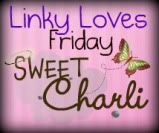 "
and:
Sundae Scoop
and: